Heated Washer Fluid Technology - See the Difference!
For a cleaner windshield, in any weather condition.





Don't get stuck outside wiping or scraping - heated washer fluid does the job for you!
The Revolutionary System for Removing
* Ice/Frost * Insects * Road Grime * Bird Droppings * Glare
Clean your windshield like you clean you dishes - HOT water always cleans better than cold!
---
HotShot RDX is the only proven, effective, windshield washer fluid heating system that offers consumers both safety and convenience at an affordable price. Patented, proprietary technology enables its heating system to heat windshield washer fluid using a minimal amount of energy produced by the vehicle's electrical system to remove frost, ice, snow, bugs, glare and other debris. The heated wash has been proven to be safe and effective in tests on all types of windshield glass and in many environments.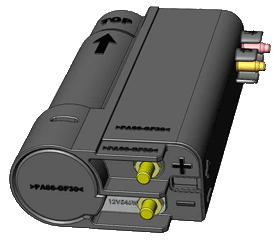 Hot water cleans better than cold! HotShot RDX dramatically improves the performance of the factory washer system by providing heated fluid every time the washer system is used. Works better than de-icing fluid, ice scrapers and even bug wash.
Beneficial in all types of weather.
Improves removal of grime & insects.
Reduces windshield glare.
De-ices partially blocked nozzles
Releases stuck wiper blades
Cleans icy/frosty wiper blades
Prolongs wiper blade life.
Out-performs even a heated windshield!
Ready to use in less than 30 seconds.
3 Year, 36,000 mile limited warranty.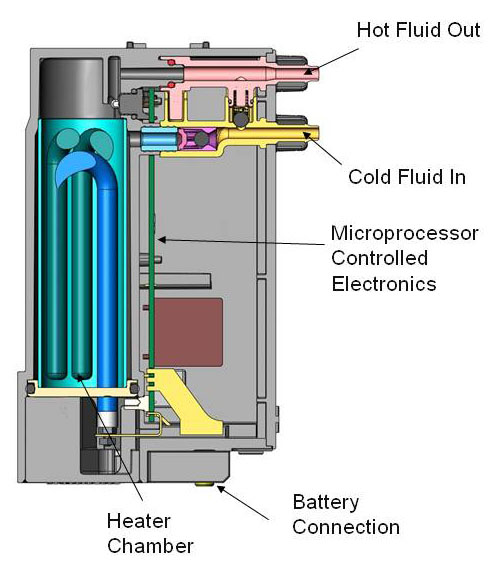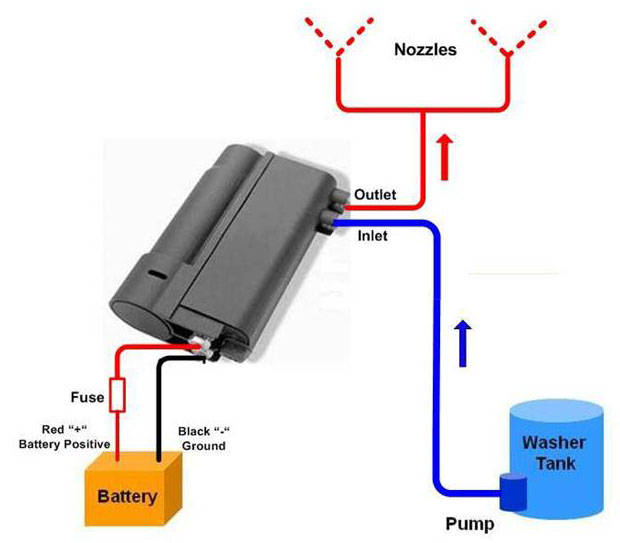 The Heated Wash AT-38OD operates in "On-Demand" mode
The unit starts to operate when the ignition is on (engine running) and battery voltage level is higher than 13.0 volts. Once the unit is activated, the washer fluid inside its heating chamber will be heated and kept within pre-determined temperature limits (125 – 135°F), so there is always hot fluid inside the unit's heating chamber which can be used by a driver for cleaning the windshield.

Each time the driver activates the factory installed washer system, heated washer fluid is applied to the windshield for approximately the first 3 seconds of spray. Three seconds of the spray delivers approx. 50-60 cc of fluid that is considered sufficient amount of fluid for one spray. The next portion of heated washer fluid is available in 10-20 second(depending on ambient conditions).

The HeatedWash unit uses full power of 50 Amps for 30 seconds to heat the washer fluid up to pre-determined temperature limits (125 – 135°F), and minimal power to keep it within these limits. The unit's power consumption is less than 2 Amps per hour.

Once the unit starts to operate (engine is running), it will heat the washer fluid in approximately 30 seconds; driver operates the washer system manually to spray the heated washer fluid onto the windshield. Recommended duration of spray is 3 seconds. Driver can spray as many times as he wants. Best results are achieved when time intervals between sprays are approx. 20 seconds.

MSRP $199 installed
HotShot RDX is manufacuted in the USA by AlphaTherm. This patented product is an evolutionary improvement on the original MicroHeat technology which eliminates the difficult installation issues and safety concerns related to the GM recall on the original design. Backed by a manuacturer's 3year/36,000 mile limited warranty.
---


[Back to Products Page]
Copyright DONMAR Enterprises, Inc.1984-2011 - Last Updated 1/11