FUNSPORT Point of Purchase Displays and Sales Tools
---
DONMAR offers a variety of sales tools, merchandising, and point of purchase displays to help restyling professionals sell FUNSPORT® Sunroofs.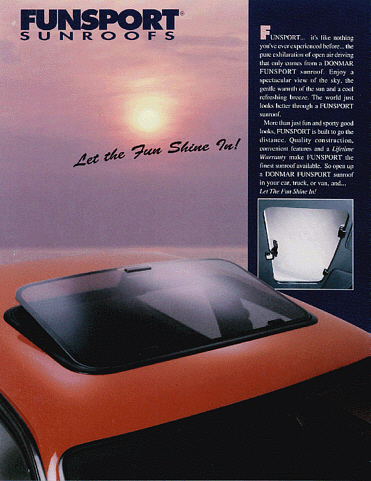 Full color literature is available for prospective dealer and retail customers.
It includes a blank area on the back to imprint your shop name, adress and phone number.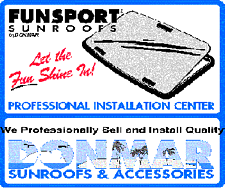 Proudly display your preferred sunroof brand name
on the door or window of your shop with our
Dealer Decal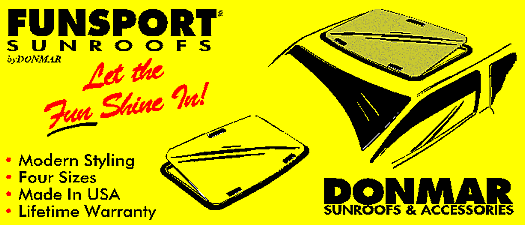 colorful 2ft x 4 ft all weather banner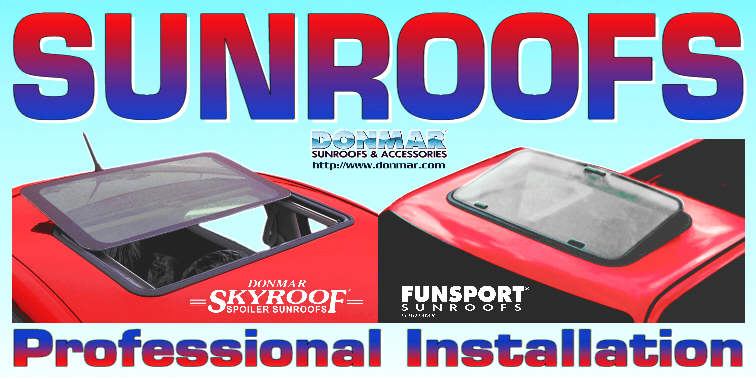 colorful 2ft x 4 ft all weather banner

WALL MOUNT SUNROOF DISPLAY
Setup a full working sunroof display in your showroom,
including display panel, slotwall mounting brackets
and material to finish the interior headliner.
Also Available (not shown):
Laminated counter card - 8.5" x 11" card made from our FUNSPORT® brochure
Marketing Guide - Marketing Tips for Professional Restylers
Ad Mats, line art and photos
---


[Back to Products Page]
Last update 1/09
DONMAR® and FUNSPORT® are registered trademarks of DONMAR Enterprises, Inc.