Serving Restyling Professionals since 1984
---
DONMAR supplies quality products to professional restylers nationwide and throughout the world. If you're looking for sunroofs, restyling products and truck accessories with sales and support from knowledgeable, courteous staff,
DONMAR Has It!
Serving Restyling Professionals Since 1984
• [Products] •
• [Tech Support & Training] •
resources for installation professionals
• [Promos & Clearance] •
• [Become A Dealer] • [Contact Us] • [See us at Trade Shows] •
• [News] • [Employment] • [Links] •
• [Terms / Credit Forms] •
Click Here for Product



Application charts

• [DEALER REFERRALS] •
DONMAR supports restyling professionals by referring consumer inquiries to our local dealers!
We provide a $10 coupon redeemable at your shop which you can claim back on your next order
DETAILS: [DEALER REFERRAL FORM]
• [Join Our Email Mailing List for Installation Pro's] •
COMING SOON! Verification required. Our mailing list is for qualified businesses ony!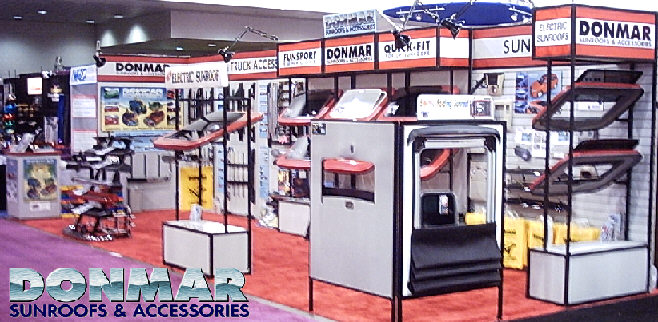 DONMAR's SEMA Booth - Las Vegas - November 2005
Our products are intended for resale, installation and service by restyling professionals.
DONMAR does not sell to individuals for D-I-Y installation.
While we recognize some products DONMAR sells may be D-I-Y friendly,
all sunroofs must be professionally installed and serviced to maintain warranty and servicability.
Sunroofs must NOT be sold in the box over the counter or online by any dealer.
Our phone numbers are not listed online because we focus our
sales and support efforts on contact with trade industry only.
Industry members may use our contact forms from this site.
---
our site is constantly being updated, so please come back often


DONMAR Enterprises, Inc. • 7980 Bayberry Road • Jacksonville, Florida 32256
DONMAR ONLINE © 1997-2014 All Rights Reserved 1/14
Registered Trademarks: DONMAR, Skyroof, Funsport, Funview, Funroof